Cone Head Terminal|316 Stainless Steel Cone Head Terminals
Cone head terminal is made from SS316 stainless steel solid bar. We also have stainless steel swage terminals of flat head, button head, dome head, stemball. The swage conehead terminal gives an awesome look to balustrade jobs wen used in connection with a countersunk drill bit. It can be swaged with swaging machines. Special sizes can be customized.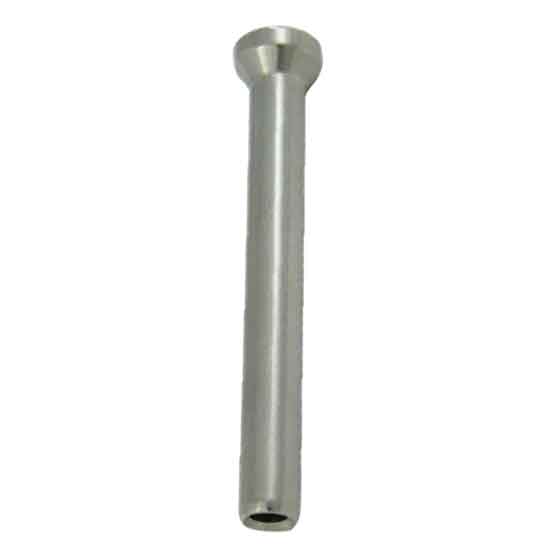 Material: Stainless Steel 316, 304 Solid bar.
Finish: Electro-Polished.
Features: AISI316 Stainless steel is marine grade due to its good performance of corrosion resistance.
Suitable for use with rotary & fixed die swaging machine.
Use with 1×19, 7X19,7X7 Strand, and compacted strand Metric and inch wire rope (IWRC).
Bespoke sizes available.
Applications: Sails boats, yacht rigging, masts, spreaders, architectural, Structural systems, cable railing, balustrade, and etc.

| Item | Wire mm | L1 mm | L2 mm | D2 mm | D3 mm | kg/ea |
| --- | --- | --- | --- | --- | --- | --- |
| 3mm Cone Head Terminal | 3 | 35 | 25 | 5.5 | 8 | 0.005 |
| 4mm Cone Head Terminal | 4 | 35 | 25 | 6.35 | 10 | 0.007 |
| 5mm Cone Head Terminal | 5 | 41 | 30 | 7.5 | 11.5 | 0.01 |
| 6mm Cone Head Terminal | 6 | 52 | 40 | 9 | 14 | 0.019 |
| 8mm Cone Head Terminal | 8 | 66 | 50 | 12.58 | 18 | 0.05 |
| 10mm Cone Head Terminal | 10 | 77 | 60 | 16 | 22 | 0.092 |
Hits: 14