Swage Toggle Terminal|Swage Toggle Jaws/ Fork SS316
Swage Toggle Terminal is made from AISI316 Stainless Steel to get maximum corrosion resistance and durability. Toggles design will eliminate the bending and strain of the wire rope. The toggle fork will make the rope to bend back & forth flexibly. So the toggle terminals are the best choices to minimize the fatigue risk due to sideway loading. Sizes from 3mm to 26mm are available.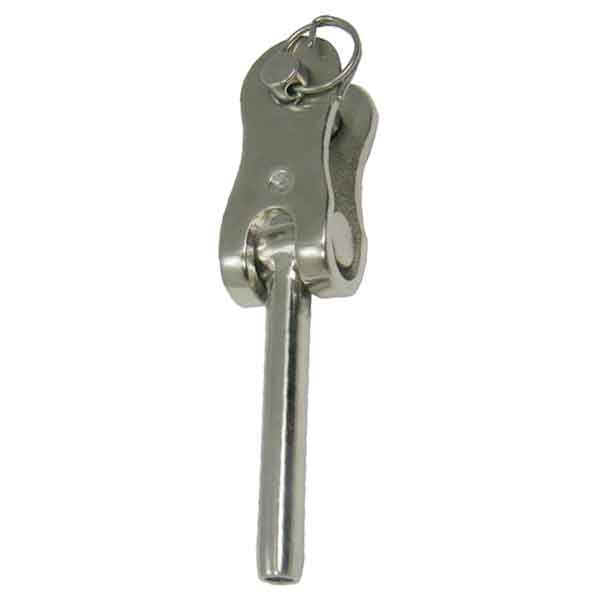 Material: Stainless Steel 316, 304.
Finish: Polished.
Features: AISI316 Stainless steel is marine grade due to its good performance of corrosion resistance.
Suitable for use with rotary & fixed die swaging machine.
Use with 1×19, 7 Strand, and compacted strand wire rope (IWRC).
Unique toggle action for articulation in two planes
Applications: Sails boats, yacht rigging, architectural, Structural systems, cable railing, balustrade, and etc.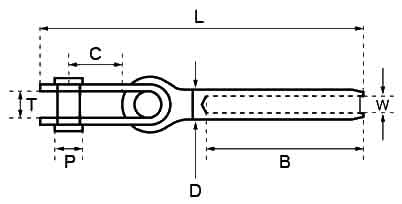 | Item | W (mm) | P (mm) | D (mm) | C (mm) | T (mm) | B (mm) | L (mm) |
| --- | --- | --- | --- | --- | --- | --- | --- |
| 3mm toggle fork | 3 | 6 | 6.3 | 14 | 8 | 39 | 84 |
| 4mm toggle fork | 4 | 8 | 7.5 | 19 | 9 | 45 | 103 |
| 5mm toggle fork | 5 | 9.5 | 9.1 | 21 | 11 | 52 | 111 |
| 6mm toggle fork | 6 | 11 | 12.5 | 25 | 13 | 64 | 146 |
| 7mm toggle fork | 7 | 12.7 | 14.3 | 26 | 15 | 70 | 168 |
| 8mm toggle fork | 8 | 12.7 | 16 | 26 | 15 | 80 | 169 |
| 8mm toggle fork | 8 | 16 | 16 | 39.4 | 17.5 | 80 | 200 |
| 10mm toggle fork | 10 | 16 | 18 | 38 | 19 | 100 | 212 |
| 12mm toggle fork | 12 | 19 | 21.4 | 38 | 22 | 132 | 278 |
| 14mm toggle fork | 14 | 22 | 25 | 52 | 25 | 156 | 328 |
| 16mm toggle fork | 16 | 25 | 28.2 | 66 | 28 | 176 | 364 |
| 19mm toggle fork | 19 | 28 | 34.5 | 68 | 32 | 210 | 430 |
| 22mm toggle fork | 22 | 32 | 40.3 | 83 | 35 | 242 | 496 |
| 26mm toggle fork | 26 | 35 | 45.9 | 97 | 38 | 290 | 571 |
Hits: 1