Fast Connector Socket with Bolt and Nut, which is also called Super reeve connector socket, ropeblock wedge socket, is a forged or cast clevis socket as per EN 10204-2.1 for quick connecting of wire rope. The unique design of Ropeblock sockets make the socket fit for the wire rope well. The connector socket will be molded or cast with the wire rope with wire lock resin. The sizes range from 11 mm to 48 mm. Also, the surface can be finished with galvanizing or painting.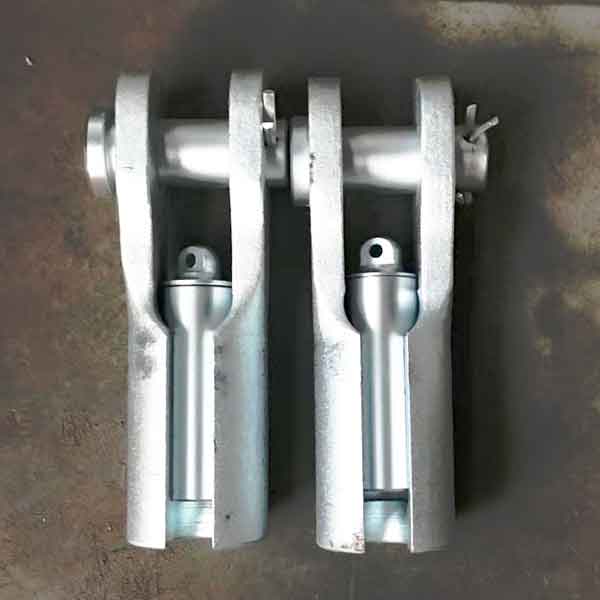 Material: Alloy Steel 35CrMo
Finish: hot dipped galvanized, Painting or upon request.
Temperature Range: -20 °C up to +200 °C.
Standard: EN 10204-2.1.
Spelter Socket Pins: Threaded end for nuts/Cotter, safety bolt, nut, and cotter pin for choices.
Zinc or Resin Poured
Packing: Ply-wooden cases.
Sizes: From 11 mm to 48 mm(fit for wire rope diameter. 
Bespoke sizes are available.
Applications: Can be used to terminate all constructions of wire rope including high performance ropes, anti-rotation ropes and standard 6 strand ropes.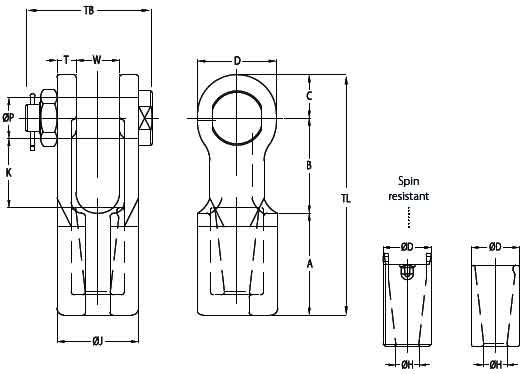 Model nr.

Reeving aid

MBL
(Mtons)

for wire ø(mm)

for wire ø(inch)

A mm

B mm

C mm

øH mm

øP mm

T mm

W mm

D mm

øD mm

øJ mm

K mm

TB mm

TL mm

Weight
(kg)

FCS 701 B

-

20

11-13

7/

16

- 1/

2

62

61

27

15

25

12

25

50

33

49

46

80

150

1,6

FCS 702 B

-

25

13-16

1/2 -

5

/8

72

78

32

18

30

14

32

58

38

60

59

96

182

2,6

FCS 703 B

-

40

16-19

5/8 -

3

/4

85

93

40

21

35

16

38

70

45

70

69

107

218

4,5

FCS 704 B

-

55

20-22

7/8

102

106

45

24

41

19

44

80

50

82

81

123

253

6,5

FCS 705 B

-

75

23-26

1

115

123

60

28

51

22

51

104

60

95

90

138

298

11

FCS 706 B

-

90

27-29

11/

8

140

152

65

32

57

25

57

114

70

107

116

160

357

16

FCS 705 B.SR

T 705

75

23-26

1

115

123

60

28

51

22

51

104

60

95

90

138

298

11

FCS 706 B.SR

T 706

90

27-29

11/

8

140

152

65

32

57

25

57

114

70

107

116

160

357

16

FCS 707 B.SR

T 706

125

30-32

11/

4

150

159

73

36

63

28

63

126

80

119

120

165

382

18

FCS 708 B.SR

T 706

125

33-36

13/

8

160

171

73

39

64

28

69

126

85

125

130

185

404

23

FCS 709 B.SR

T 709

150

37-39

11/

2

176

187

80

42

70

30

76

142

90

136

142

201

443

29

FCS 710 B.SR

T 709

170

40-42

15/

8

188

198

88

45

76

33

76

156

95

142

150

209

474

36

FCS 711 B.SR

T 711

225

43-48

13/

4

- 17/

8

210

232

100

52

89

39

89

176

110

167

175

237

542

58
Hits: 2