Open Spelter Socket|Open Spelter Wire Rope Sockets
Open Spelter Socket is made from cast high tensile steel. The wire rope sockets are used to attach the wire rope to the fixed point where the socket is connected. The spelter sockets are widely used for dredging material, oil platforms, towing cables, constructions, etc. The melted zinc or suitable resins will be poured into the sockets to attach the wire rope.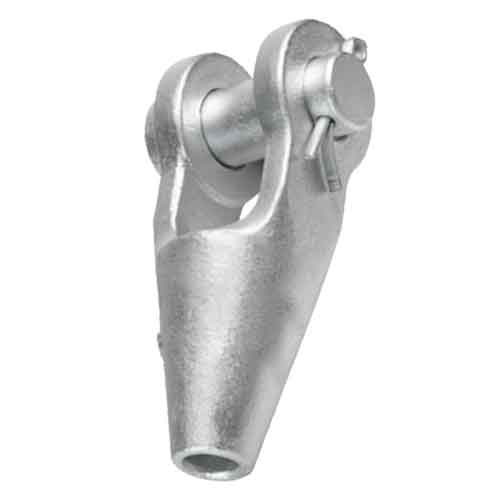 Material: high tensile steel
Finish: hot dipped galvanized, Painting or upon request.
Temperature Range: -20°C up to +200°C.
Standard: Federal RR-S-550.
Spelter Socket Pins: Threaded end for nuts/Cotter, safety bolt, nut and cotter pin for choices.
Zinc or Resin Poured
Packing: Carton with pallet.
Sizes: From 6mm to 130mm.
Bespoke sizes are available.
Applications: Attaching steel wire rope.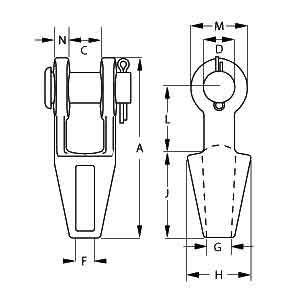 | Rope mm⌀ | A mm | C mm | D mm | F mm | G mm | H mm | J mm | L mm | M mm | N mm | kgs/Each |
| --- | --- | --- | --- | --- | --- | --- | --- | --- | --- | --- | --- |
| 6-7 | 116 | 19.1 | 17.5 | 9.65 | 17.5 | 39.6 | 57 | 39.6 | 33.3 | 9.1 | 0.5 |
| 8-10 | 123 | 20.6 | 20.6 | 12.7 | 20.6 | 42.9 | 57 | 44.5 | 38.1 | 11.2 | 0.59 |
| 11-13 | 141 | 25.4 | 25.4 | 14.2 | 23.9 | 47.8 | 63.5 | 51 | 47.8 | 12.7 | 1.02 |
| 14 - 16 | 171 | 31.8 | 30.2 | 17.5 | 28.7 | 57 | 76 | 63.5 | 57 | 14.2 | 1.63 |
| 18 | 202 | 38.1 | 35.1 | 20.6 | 31.8 | 66.5 | 89 | 76 | 66.5 | 15.7 | 2.64 |
| 20 - 22 | 235 | 44.5 | 41.4 | 23.9 | 38.1 | 82.5 | 102 | 89 | 79.5 | 20.3 | 4.38 |
| 24-26 | 268 | 51 | 51 | 28.7 | 44.5 | 95.5 | 114 | 102 | 95.5 | 22.4 | 7.03 |
| 28-30 | 300 | 57 | 57 | 31.8 | 51 | 105 | 127 | 117 | 105 | 25.4 | 9.75 |
| 32-35 | 335 | 63.5 | 63.5 | 38.1 | 57 | 121 | 140 | 127 | 121 | 28.7 | 14.1 |
| 38 | 384 | 76 | 70 | 41.4 | 70 | 133 | 152 | 152 | 137 | 30.2 | 21.4 |
| 40-42 | 413 | 76 | 76 | 44.5 | 76 | 140 | 165 | 165 | 146 | 33.3 | 24.9 |
| 44-48 | 464 | 89 | 89 | 51 | 79.5 | 162 | 191 | 178 | 165 | 39.6 | 37.2 |
| 50-54 | 546 | 102 | 102 | 57 | 95.5 | 187 | 216 | 229 | 178 | 46 | 59 |
| 56-60 | 597 | 114 | 114 | 36.5 | 102 | 210 | 229 | 254 | 197 | 54 | 76 |
| 64-67 | 648 | 127 | 127 | 73 | 114 | 235 | 24 | 274 | 216 | 60.5 | 114 |
| 70-73 | 692 | 133 | 133 | 79 | 124 | 267 | 279 | 279 | 229 | 73 | 143 |
| 75-80 | 737 | 146 | 146 | 86 | 133 | 282 | 305 | 287 | 241 | 76 | 172 |
| 82-86 | 784 | 159 | 159 | 92 | 146 | 302 | 330 | 300 | 254 | 79 | 197 |
| 88-92 | 845 | 171 | 171 | 98.5 | 165 | 314 | 356 | 318 | 274 | 82.5 | 255 |
| 94-102 | 921 | 191 | 191 | 108 | 184 | 346 | 381 | 343 | 318 | 89 | 355 |
Hits: 72